No Excuses Striper Fishing On Lake Lanier Guided Fishing Trip Prices
Upcoming Availability -
Select a Date
Call to Get a Custom Trip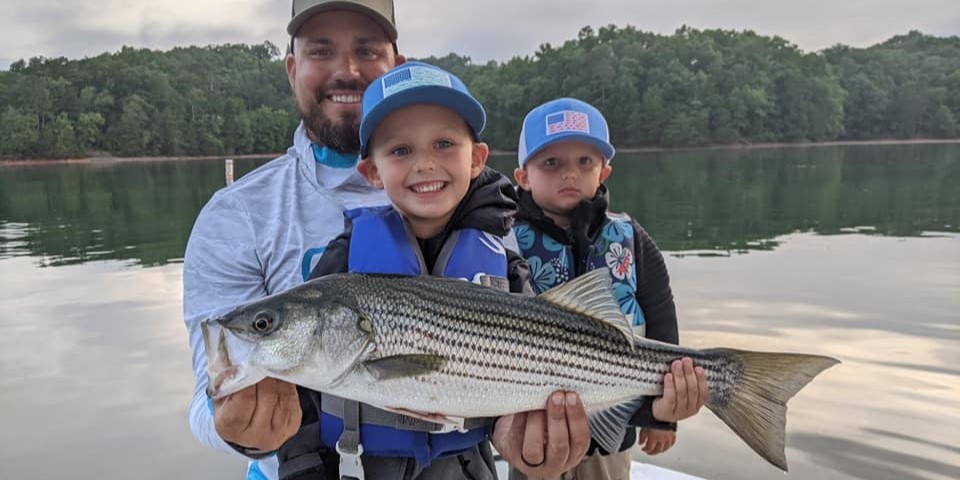 Available Times & Prices
5 hrs at 6:45 AM - $550
6 hrs at 6:45 AM - $600
7 hrs at 6:45 AM - $700
4 hrs at 6:30 AM - $450
Half-Day to Full Day Lake Lanier Fishing Trips
Fishing Area:
Lake Lanier
Fishing - Lake

Fishing Boat:

Sea Hunt Center Console • 22' Sea Hunt Center Console • Max 4 guests (base trip price includes 2 guests)
Target Fish:
Crappie, Largemouth Bass, Spotted Bass, Striped Bass, Walleye
Description:
If you're looking for a great way to spend a day fishing, look no further than No Excuses Striper Fishing On Lake Lanier! Our experienced fishing guide, Capt. Brad Whitehead, will take you out on the lake or nearby Chattahoochee and Chestatee Rivers in search of prized striped bass. We offer convenient 4-hour, 5-hour, and 7-hour trips for 2 people. $50 each additional angler that are perfect for anglers of all skill levels. Aside from stripers, anglers may also find other fish in the lake such as spotted bass, largemouth bass ,crappie ,and more. Make sure not to miss this trip and book today!
No Excuses Striper Fishing On Lake Lanier Fishing Trip Information
TRIPS ARE SCHEDULED FROM 5TH WEEK OF MAY
Good to Know's
Please Call Us to Book Parties Larger Than Four Guests
Children Under 13 Are Required To Wear A Life Jacket.
You Can Bring Sunscreen As Long As It's Not "Spray On"
Schedule a Trip Now!
We work hard to keep our calendar updated. Our schedule is the most updated information so please book online. We will contact you after to make your trip as positive an experience as we can.
If you have questions or want to talk to someone further, feel free to contact us directly, click here for our contact us information.